New "65" Guitar Amps
Current Inventory
Go to the Home Page to Find the Time We Last Updated The Site
Guitar Rez is Austin's Exlusive Dealer for "65" Guitar Amps!
Call (512) 478-0095 or E-Mail Us For Our Discount Prices on "65" Amps!


65 Amps Blue Line "The Whiskey" Amp Head - Now in Stock!

45 Watts Output From Two 6L6GC Power Tubes
Two Switchable Channels
FET Buffered Effects Loop Designed by Dave Friedman
8 and 16 Ohm Speaker Outputs
Black Covering with Salt-n-Pepper Front Panel

65 Amps "The Whiskey" 2x12" Speaker Cabinet - In Stock

Two Celestion "G12H-30" 12" Speakers
16 Ohm Total Cabinet Impedance
Black Covering with Salt-n-Pepper Grille

65 Amps "2x12" Speaker Cabinet - In Stock

Mostly Closed Back With Center "Vent"
One Celestion G12H-30 and One Celestion "Alnico Blue" 12" Speakers
Black/Creme Covering

65 Amps "Lil' Elvis" Combo Amp - In Stock!

12 Watts from Two EL-84 Power Tubes
One Celestion GH12-30 Anniversary "Greeback" 12" Speaker
Features Unique 65 "Bump" Midrange Empasis Control
Features Tremolo and Master Volume
Black with Creme Front Panel Covering

65 Amps "London Pro" Combo Amp - In Stock

18 Watts Output From Two EL-84 Power Tubes
2 Channels, One Voiced With an EF-86, One With a 12Ax7
Channel Footswitch Included
Master Voltage Control
"Handmade American" Transformers
Baltic Birch Ply Cabinetry
One Celestion "G12-H30" 12" Speaker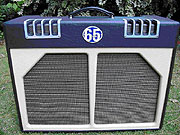 "65" Amps feature complete point to point hand
wiring, are 100% hand assembled and completely made here in
the U.S. Each amp is custom voiced and broken-in
thoroughly before shipment to make sure the amp is completely
reliable and has uniform excellent tone. "65" Amplifiers use only
premium matched EL-84's as power tubes, premium 12ax7 or
EF86 as preamp tubes. All resistors in the tone circuits are
N.O.S. 5% tolerance Allen and Bradley carbon comp.
Capacitors are all custom made to "65"s specs. The transformers
are perfect replicas of the 1960's Radiospares components.
The London 18 is a two channel amp. The normal
channel is EF86 based with tone and 6-way color controls. The
tremolo channel is 12ax7 based with a single tone, speed, and
intensity controls. There is a "cut" control that affects both
channels.