New "65" Guitar Amps
Current Inventory
Go to the Home Page to Find the Time We Last Updated The Site
Guitar Rez is Austin's Exlusive Dealer for "65" Guitar Amps!
Call (512) 478-0095 or E-Mail Us For Our Discount Prices on "65" Amps!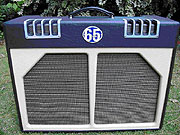 "65" Amps feature complete point to point hand
wiring, are 100% hand assembled and completely made here in
the U.S. Each amp is custom voiced and broken-in
thoroughly before shipment to make sure the amp is completely
reliable and has uniform excellent tone. "65" Amplifiers use only
premium matched EL-84's as power tubes, premium 12ax7 or
EF86 as preamp tubes. All resistors in the tone circuits are
N.O.S. 5% tolerance Allen and Bradley carbon comp.
Capacitors are all custom made to "65"s specs. The transformers
are perfect replicas of the 1960's Radiospares components.
The London 18 is a two channel amp. The normal
channel is EF86 based with tone and 6-way color controls. The
tremolo channel is 12ax7 based with a single tone, speed, and
intensity controls. There is a "cut" control that affects both
channels.